The Management Team brings decades of experience in the water and utility business:
Steven Greenberg, Managing General Partner, founded BVRT, LP in 2013.  He has over 30 years of experience in the utility business with a broad range of responsibilities including operations, project management, business development, finance, regulatory and government affairs, and corporate executive management.  Steven is responsible for the company's overall profitability, strategic direction, its growth and securing the resources needed to support the growth and daily operations.  Steven has presented at and provided testimony to Congress, State Legislatures, Public Utility Commissions, investor conferences, and industry trade groups.  He has also authored and coauthored several papers, studies and articles.  Steven is a veteran of the United States Coast Guard
Mia Natalino, P.E. is Vice President and General Manager and VP of Regulatory Affairs is a licensed professional civil engineer with over 20 years of experience in the public and private sector. Mia started with BVRT in 2014 as a project engineer and has continuously increased her knowledge, skills and standing to where she is now an acknowledged leader in the industry.  Mia has overall responsibility for the day to day activities of the company as well personally directing the companies regulatory efforts with local governments, the Public Utilities Commission and the Texas Commission on Environmental Quality. Mia is a graduate of Texas A&M.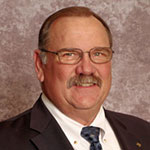 Bill Fry is BVRT's VP of Operations and President of O & M Management Services, LLC (OMMS), BVRT's utility operations management company.  Bill joined BVRT in 2018 following his retirement from Severn Trent Service, where he was Regional Manager of the Municipal Utility District business in Texas for over 34 years.  He is responsible for BVRT's overall operations and physical plant management strategy, the operations and profitability of OMMS, as well as the direct plant operations of all of BVRT's utilities.  Currently OMMS has 6 utilities that are operated and managed by OMMS. Bill holds Class B Wastewater, Surface and Groundwater Certifications in the Texas.
The Company has also established a Board of Advisors to assist with strategy, business development, and corporate guidance.